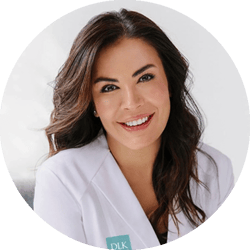 Dr. Sonya Abdulla is a thought-leader in the industry of Aesthetic Medicine, and is recognized for the natural results she achieves for her patients by developing holistic yet customized treatment plans to address specific concerns. Dr. Abdulla's goal is to maximize her patients' results while minimizing their recovery time, so they can return to their busy lifestyle feeling even more confident and beautiful.
As an injectable and laser specialist, Dr. Abdulla frequently teaches her peers the most coveted techniques of Aesthetic and Laser Medicine. Her expert medical opinion is often sought by the media and industry. Dr Abdulla supports the use of evidence-based skincare and is a consultant to Johnson & Johnson (Aveeno, Neutrogena), Pierre Fabre Laboratoires (Avene) and L'Oréal Canada (La Roche-Posay, CeraVé, Vichy, SkinCeuticals). Dr. Abdulla has also served as a Physician Expert for VICHY Canada where she participated in product research and development.
Dr. Abdulla completed her dermatology fellowship, as well as her subspecialty training in Laser Surgery and Aesthetic Medicine, at the University of Toronto. Her clinical practice is based in downtown Toronto where she offers her expertise in injectables and laser surgery.