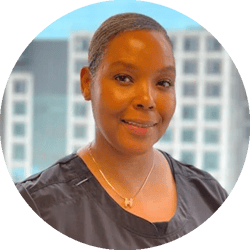 Selika Gutierrez-Borst, NP
Selika holds a Nurse Practitioner degree from North Park University. With 24 years of clinical experience and expertise, Selika possesses a strong background in Aesthetic Medicine, Internal Medicine, and Adult Clinical Psychiatry.
Her background in aesthetic medicine, research, and education are met with meticulousness and compassion that her patients respect and appreciate. She works closely on the clinical and research side with Dr. Steven Dayan. She patiently embraced the realm of aesthetic medicine 15 years ago and has gained extensive knowledge, attention to detail, and the highest level of patient care. Selika has been involved in training physicians, nurses, physician assistants, and medical students for several years.